Finally, an accessibility conference that connects you with the information and network you need to build the organization you want.
Leaders, join us.
Business: Learn why inclusive organizations win today.
Talent: Find, hire, and keep a diverse workforce.
Marketing: Share your brand's story with everyone.
Tech: Find new assistive tech and make your tech better.
UX: Build accessibility into every release, every time.
Accessibility: Define policies and programs that work.
AccessibilityPlus Virtual Conference
3 Days of Virtual Learning and Engagement
Unlocking the Potential of Assistive Technology
Innovation in assistive technology (AT) — from the basic to the futuristic — is driving business success. Embrace AT and discover the tech solutions your company should be using and your customers already are.
Actionable Solutions for an Inclusive Workforce
Attracting and retaining employees with disabilities can be hard if you don't know where to start. Learn how to compliantly and effectively create an inclusive culture in today's hybrid world, with accessibility at the center.
Effectively Managing Accessibility for Business
How do you actually put accessibility knowledge into practice? Learn from corporate leaders how to build an accessibility team, how to measure and track accessibility progress, and how to do it at scale.
Skip over 25 speaker profiles
Keynote Speakers
Judith Heumann
Disability Rights Advocate
Caroline Casey
Founder

| The Valuable 500
Accessibility
Plus

MC
Presenting our Speakers
Additional speakers will be added soon!
Entertainers
Joy Brooker
Singer-Songwriter
Additional entertainers will be added soon!
#NameYourPlus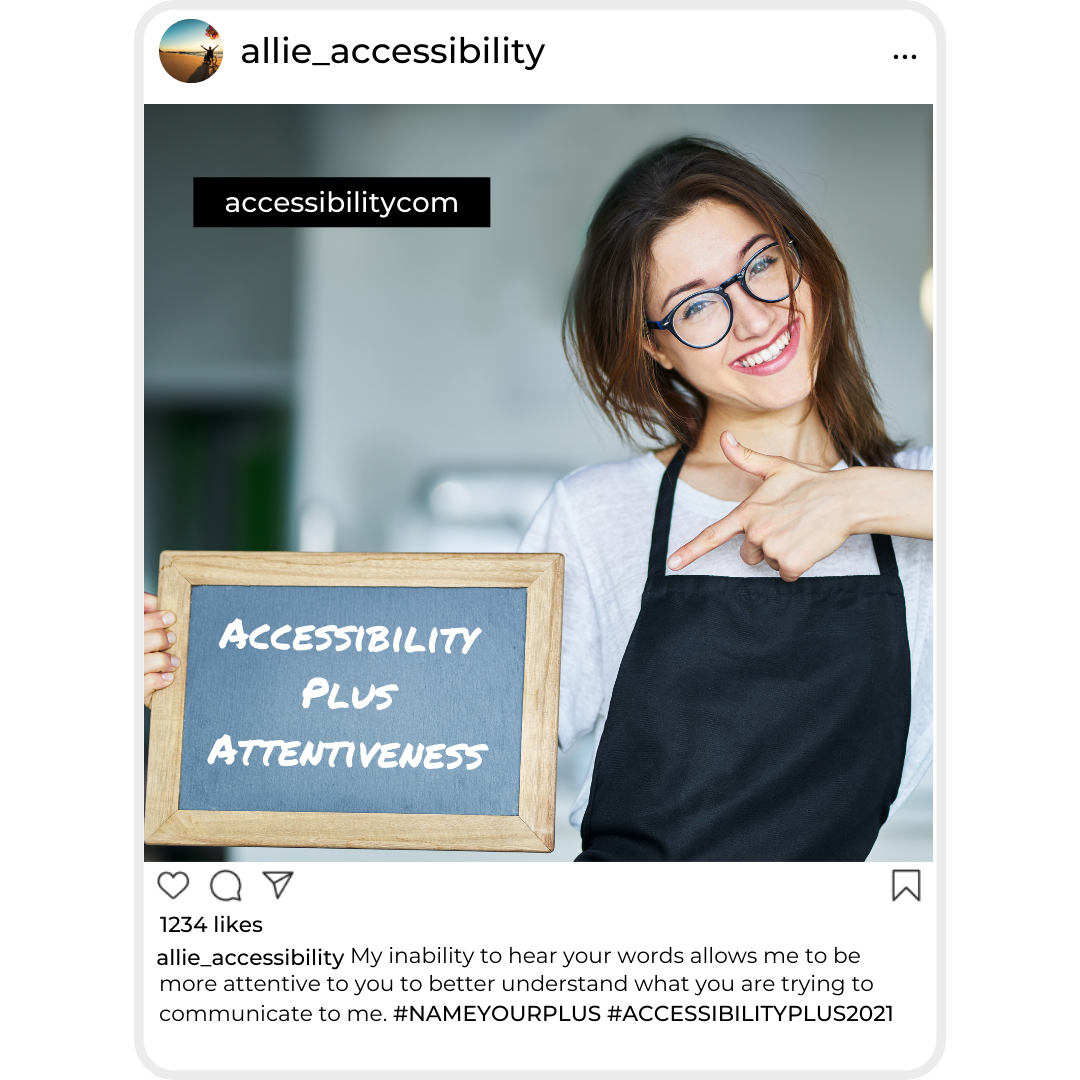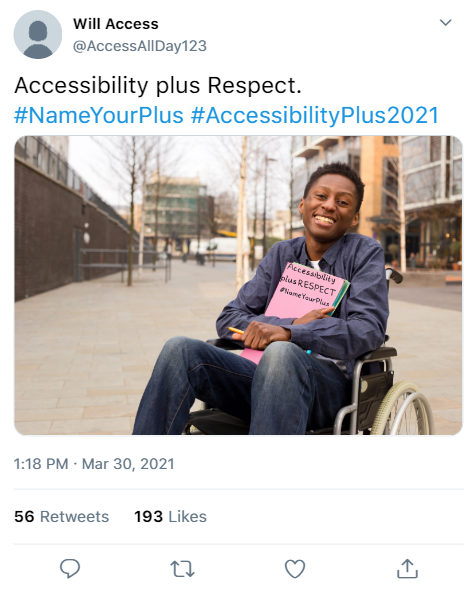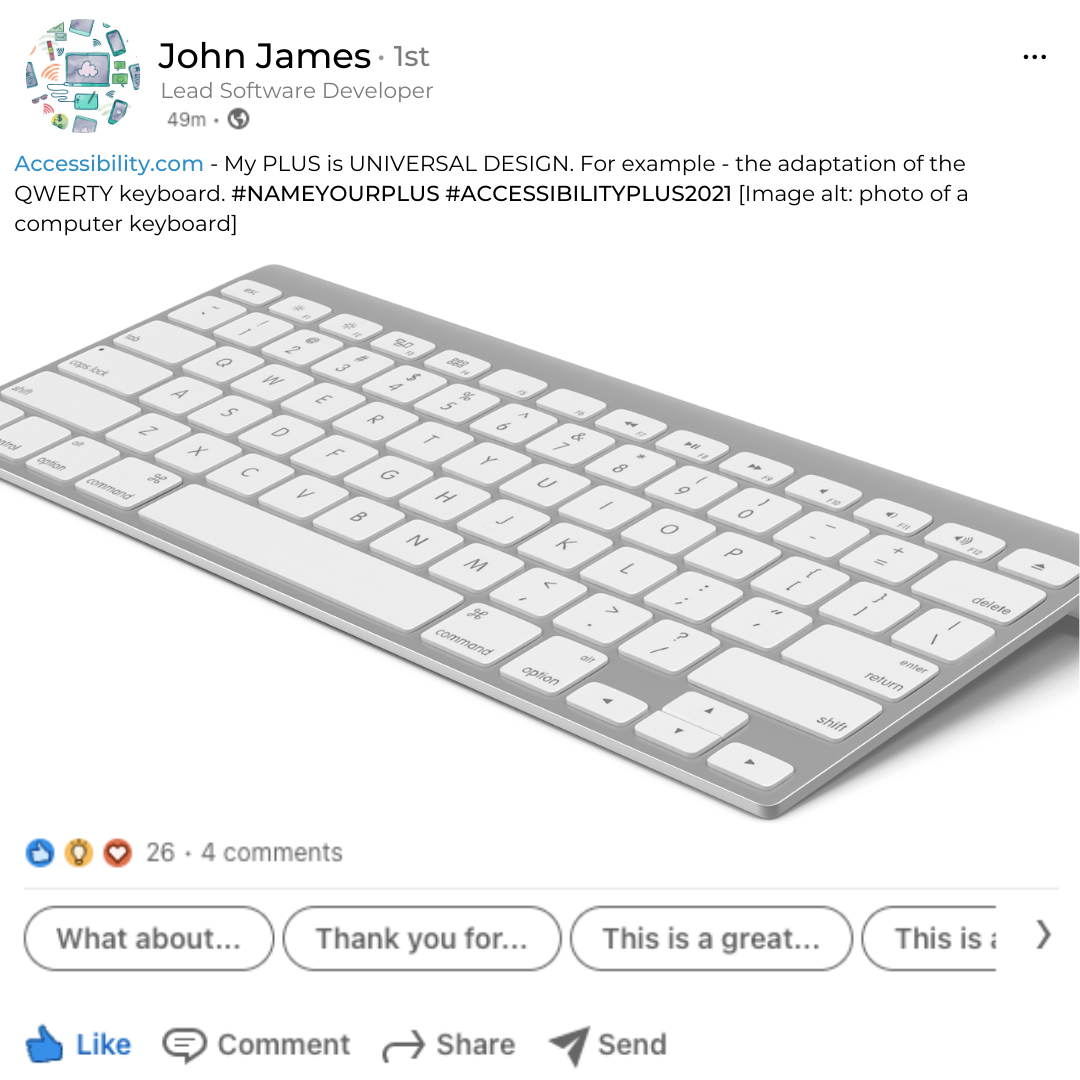 Accessibility and inclusion for all should be at the forefront of design. It shouldn't be an afterthought. We know that and it's our goal to make everyone aware that Accessibility Matters.

At Accessibility.com, we believe Accessibility Starts Here. And by that, we acknowledge that accessibility and inclusion start with each of us sharing our personal stories to promote awareness and understanding.

There are many shades of accessibility. We each have our own needs for inclusion - whether it's how our differences are a PLUS, how innovation has become a PLUS, or how your own personal message on accessibility and inclusion is a PLUS.

We invite you to share with the world your personal message on inclusion. We want YOU to #NAMEYOURPLUS.
Here's how it works
Take a photo or video of yourself sharing what is important to you when it comes to a more accessible world.
Use the #NameYourPlus and #AccessibilityPlus2021 hashtags on Instagram, TikTok, Twitter, Facebook, or LinkedIn to contribute your unique voice to the conversation.
Tag Accesssibility.com.
Help to change the world.
We will compile all of your "plusses" and we will share them on our social media channels and during the virtual conference. This is your opportunity to contribute to change.
Preliminary Agenda Topics
We are working around the clock with our talented Speaker roster putting together the final details of each item on the final timed agenda. Until this is completed, we are excited to share with you the topics that will be presented during the conference:
Day 1 - Tuesday, October 12th
Unlocking the Potential of Assistive Technology
Early Adopters & What Technology Exists Now

Should You Use an Accessibility Overlay?

Assistive Technology in Action: Show and Tell

Assistive Technology Procurement

Digital Accessibility Tools Every Company Should Utilize

Assistive Technology Showcase
Day 2 - Wednesday, October 13th
Actionable Solutions for an Inclusive Workforce
Reasonable Accommodations Under the ADA

Accessibility and Remote Work

Lessons from Employee Lawsuits in Enterprises

Myths and Realities About Employing People with Disabilities
Creating a Workplace Where People with Disabilities Want to Work
Day 3 - Thursday, October 14th
Effectively Managing Accessibility for Business
Defining and Supporting an Accessibility Program
Listening to Your Customers
How to Build an In-house Accessibility Team
Universal Design
How to Monitor, Track, and Report on Accessibility
Enterprise Solutions for Scaling Accessibility
Until the final agenda is available, the content above is subject to change.