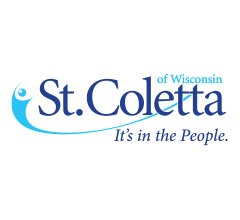 Mission
Inspired by the Franciscan values of compassion, dignity and respect, St. Coletta supports persons with developmental and other challenges to achieve their highest quality of life, personal growth and spiritual awareness.
Vision: St. Coletta of Wisconsin will be the premier provider of support services for adults with developmental disabilities and other challenges throughout their lifespan. Through dynamic partnerships, exceptional customer service, a demonstrated commitment to quality and spirituality, we will work with persons receiving services to achieve their best life possible.
Services Provided
St. Coletta provides residential housing and services to adults with developmental and intellectual disabilities in Brookfield, Jefferson and Waukesha, Wisconsin and also Northern Illinois/Chicago suburbs.
In addition to residential services, they also provide vocational support and adult day services in Rolling Meadows, IL, Brookfield and Jefferson, Wisconsin.
The location in Brookfield, WI provides an intergenerational experience providing services to adults with disabilities and also wrap around childcare for school aged children. In Jefferson, WI St. Coletta provides transportation services to the greater community to allow for inclusion and access in the community for all. Transportation services are provided to all service areas.
Established by the Sisters of St. Francis of Assisi-Milwaukee over a century ago, St. Coletta of Wisconsin is a non-profit organization dedicated to providing quality residential, day/vocational programs and services for persons with development disabilities (DD) and other challenges. St. Coletta strive to provide consumer-driven programs and services that consistently meet and exceed the expectations of our customers.
As one of the oldest organizations in the country, they are dedicated to upholding the rights of persons with disabilities so they may be included in all aspects of life, participate as full citizens and receive the support they require for a quality life.
At St. Coletta we are strongly committed to cultivating both an internal and external sense of community. Connections with the communities in which we live and work are equally as important as nurturing the internal connections between clients, staff, families and benefactors. These relationships build a community spirit that is a unique part of its organization.
Though ecumenical in our approach, St. Coletta's heritage as a Catholic/Franciscan organization and its ongoing sponsorship by the Sisters of St. Francis of Assisi, guides all decision making and has a strong influence on programs, services and values.
How Many People Reached
St. Coletta serves approximately 400 individuals in Southeastern Wisconsin and Northern Illinois.
How Donations Are Used
St. Coletta of Wisconsin depends on generous donations from friends, family, corporation, foundations and other stakeholders. Most individuals receive funding for services from Medicare or Medicaid. There has been no increase in reimbursement rates in Wisconsin for 12 years. Donations are used to help bridge that gap and also pay for services that funding does not cover such as end of life services, transportation/staffing for medical appointments, recreational activities, Special Olympic participation and other events that make life enriching and enjoyable.
Project Spotlight
St. Coletta is currently focused on bridging the funding gap during this time of the COVID pandemic. This health threat has placed many physical and psychological stresses to individuals and staff, increased safety, sanitation and PPE requirements and exacerbated an already tight budget.
Awards Received
2016: Non-Profit of the Year, Milwaukee Biz Times.
2019: ANCOR, the National Alliance for Direct Support Professionals (NADSP) and the Institute on Community Integration at the University of Minnesota 2019: Moving Mountains Award. This award was for given for St. Coletta's innovative recruitment and retention practices for Direct Support Professionals.
Interesting Facts
Rosemary Kennedy lived and was cared for by the Sisters at St. Coletta until her death in 2005. Rosemary and the Sisters of St. Francis of Assisi (St. Coletta) were influential to President John F. Kennedy creating the 1961 Panel of Mental Retardation, to address the needs of people with disabilities and their rights to be part of everyday life and President Lyndon Johnson's 1967 signing of H.R. 6430 which extended, expanded and improved public health law related to people with disabilities. Rosemary's sister, Eunice Kennedy Shriver, was described as a "guiding force" on the presidential panel and dedicated her life's work to advocating for individuals with special needs and is also known as the founder of Special Olympics.
St. Coletta of Wisconsin was one of the first organizations in the country to teach children with disabilities and was instrumental in promoting special education.
Where To Donate
Newsletter Sign-up
Email to join.