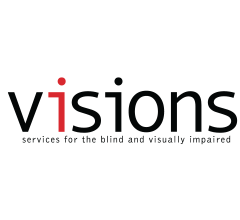 Mission
VISIONS/Services for the Blind and Visually Impaired is a nonprofit rehabilitation and social service organization. VISIONS purpose is to develop and implement individualized programs to assist people who are blind and visually impaired of all ages to lead independent and active lives, and to educate the public to understand the capabilities and needs of people who are blind and visually impaired.
Services Provide
VISIONS Primary Services Include:
VISIONS Rehabilitation: In-home instruction for all ages, on key skills to living with vision loss, safely traveling in the community, and maintaining independence.
Job Training and Placement: Instruction on resume writing, computer literacy, applying/interviewing for jobs, and techniques to thrive in the workplace.
Assistive Technology: Instruction on using screen-reading or magnification software on computers, as well as accessibility features available on mobile devices.
Youth Services: Internships and job training for young adults 14–21 years old, as well as pre-college programs to prepare high-school students for life's next steps.
VISIONS Center on Aging: Programs and services designed for seniors age 60 or older, including free meals on weekdays, benefits counseling, health-focused activities, support groups, and mail reading.
Unpaid Caregiver Support: Free resources and support for caregivers assisting visually impaired and blind older adults (60+), and visually impaired grandparents (55+) who serve as the primary caregiver to a child under 18 years old.
Community Outreach: Presentations and staffing events to help raise awareness of the needs and abilities of people with visual impairments; as well as information and referrals through Blindline®.
Residential Short-term Training: Residential, short-term training in vision rehabilitation, job training, and assistive technology for individuals and families, held at VISIONS Center on Blindness (VCB) and our Vocational Rehabilitation Center (VRC).
How Many People Reached
VISIONS serves 7,500 participants annually in all boroughs of NYC, as well as Long Island, Westchester County, Rockland County, and several counties in New Jersey. All legally blind and visually impaired persons sponsored by their state commission for the blind are eligible for residential short-term training at VCB.
How donations Are Used
VISIONS spends 89¢ of every dollar providing free services to our participants, while the remaining 11¢ is spent on administrative costs. VISIONS serves a primarily low-income population of all ages from communities of color and their families.
Project Spotlight
VISIONS Vocational Rehabilitation Center (VRC) is a state-of-the-art residential training facility located on the grounds of VISIONS Center on Blindness (VCB) in Rockland County. For youth ages 18–21, The VRC offers training towards certified career opportunities in areas such as nursing assistant, teacher's assistant, and food preparation.
For adults ages 21 and over, the VRC offers training in important skills including orientation & mobility, and assistive technology. Referrals to the VRC must be sponsored by your state's commission for the blind.
Awards or Accreditations
VISIONS holds a 2020 Platinum Seal of Transparency by GuideStar.
VISIONS holds a 2020 Top Rated badge by GreatNonprofits.
VISIONS holds a Program of Distinction badge by Generations United.
VISIONS is a Better Business Bureau Accredited Charity.
content may appear here.
Interesting Facts
Since its inception in 1926, VISIONS has provided racially integrated programming, a rarity in the 1920's.
One third of VISIONS staff identifies as blind, visually impaired, or disabled.
VISIONS has a multi-lingual and multi-cultural staff, board, and clientele.
Where To Donate
Newsletter Sign-up