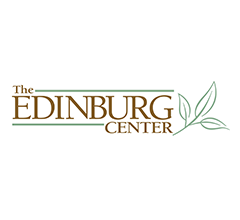 Industry
Services & Healthcare
Mission
The Edinburg Center is a non-profit organization with 501(c)(3) status. Its mission is to provide an array of innovative services which promote personal growth and independence, foster hope and enhance the quality of life of people with mental health conditions, co-occurring substance use conditions and/or developmental disabilities or brain injuries.
Services Provided
Adult Mental Health
Intellectual and Developmental Disability/Acquired Brain Injury
Children and Families
Day & Employment
Telehealth
How Many People Reached
The Center serves approximately 1,500 annually.
How Donations Are Used
The Center uses donations to make sure that the services provided are comprehensive. Many of the rates the Center receives do not fully cover expenses.
Project Spotlight
The Center's First Episode of Psychosis program serves individuals who are experiencing psychotic symptoms for the first time. Using a team-based approach, this early intervention program helps the young adult and his or her family system to understand what is happening and helps to prevent the need for services and supports later on. This is one of a few sites in Massachusetts.
Interesting Facts
Established in 1977, the Edinburg Center was founded on the tenets that all persons have the potential to learn, the capacity for change, and the right to live a meaningful life in the community of their own choosing. What began as a non-profit Community Mental Health Center with a community-based Board of Directors and a budget of less than five hundred thousand dollars has grown over time to serve not only people with mental health conditions, but also persons with intellectual and developmental disabilities, co-occurring disorders, autism, and brain injuries.