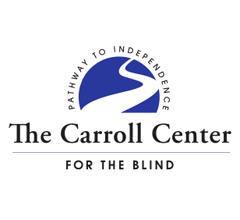 Industry
Education & Services
Mission
The Carroll Center for the Blind empowers those who are blind or visually impaired to achieve independence and to lead a fulfilling life.
Services Provided
With the ongoing promise of improving the lives of people with vision-related problems, The Carroll Center for the Blind has pioneered many innovative services allowing people who are blind or have low vision to learn the skills to be independent in their homes, in class settings, and in their work places. Services include vision rehabilitation, vocational and transition programs, assistive technology training, educational support, accessibility consulting, and recreation opportunities for individuals who are visually impaired of all ages.
The Carroll Store, located on the Carroll Center campus, specializes in providing low vision products, adaptive devices, and technology for the blind and visually impaired.
Vision Rehabilitation Services: Designed for adults who have had a significant loss of vision. These intensive programs provide training and support to encourage the physical and emotional adjustments needed to live with blindness or low vision as well as to provide the skills needed to live and work independently.
Education Services: The Carroll Center for the Blind offers a multitude of direct and consultative services for children and teens who are blind or have low vision that attend public or private school. Its education specialists work to ensure that every developmental and educational milestone is met. A variety of special programs are also offered throughout the year to enhance students' school experiences in skill areas of the Expanded Core Curriculum.
Community Services: Community-based instructors teach safe travel skills to individuals of all ages in their homes, communities, job sites, public transportation, and college campuses.
Low Vision Services: Low Vision Therapists provide outpatient assessments and training to support the use of remaining vision with magnification, lighting, and distance-viewing devices. These services take place on campus, the individual's home, in the community, school, or workplace.
Technology Training: Technology programs include a full spectrum of instruction – from novice to expert – to help prepare people who are blind or visually impaired – including children, working-aged adults, and seniors – to use technology proficiently.
Accessibility Services: With the goal of making the internet, consumer products, websites, mobile devices, and digital resources available to all persons, especially those with disabilities, the Accessibility Services team has become an established leader in the field. The Center delivers comprehensive accessibility solutions to organizations of all types and all industries from colleges/universities, healthcare, and banking to retail, e-commerce, and more.
How Many People Reached
The Carroll Center for the Blind works with blind and visually impaired consumers and professionals across the globe, serving over 4,000 clients each year.
How Are Donations Used
In order to provide programming for people of all ages and all stages of vision loss, The Carroll Center for the Blind relies on support from individuals, corporations, small businesses, and public and private foundations. Donations fund The Carroll Center programming and operations ensuring that it can continue to serve all the people in need of training and services.
Project Spotlight
Clients are even more isolated now as COVID-19 impacts daily lives, presenting many with the inability to be independent in the community. Committed to helping those struggling with vision loss continue to develop skills for independence, the Center developed a variety of remote courses for all ages, after having to close its residential services. However, funding to support attendance in these programs has been limited.
Interesting Fact
First blindness rehabilitation agency for civilians in the country and one of the first to provide computer instruction to blind persons.
Provide more orientation and mobility hours to individuals than any other agency in New England, so individuals can travel independently.
In 2019, instructors traveled 60,113 miles to reach clients across the state of MA and NH.
Additional Links
Where To Donate
Contact
770 Centre St.
Newton, MA 02458
(617) 969-6200
(800) 852-3131
info@carroll.org
Newsletter