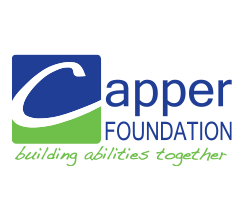 Industry
Healthcare and Advocacy
Mission
To build abilities and empower people of all ages living with disabilities.
Services Provided
Children's Services
Pediatric therapists offer comprehensive evaluations using standardized testing, clinical observations and caretaker reports. Customized treatment plans and cutting-edge interventions help children gain their highest level of independence. Capper believes children have the greatest success when the family is also included as a member of the therapy team. Its therapists like to share resources and activities that they feel would be beneficial to families. Visit their Pediatric Therapy Resources page for links.
Adult Services
The primary focus of Capper's Adult Services Program is to develop individualized supports for adults with disabilities so that they may live independent and productive lives. Staff support individuals as they make life enhancing choices for themselves at home, work and in the community while still providing them with a holistic balance of supports in health, emotional, social. Capper strongly encourages community integration and natural supports which is involvement with family, friends, guardians and neighbors.
Recreation
Capper Foundation offers fun, healthy programs for children, teens, adults and families to connect with friends and engage in constructive activity - all necessary for living the best life possible. Adaptive recreation programs help build confidence, skills and inclusiveness with family and friends' activities.
Veterans Assistance Fund
The mission of this program is to provide critical and timely assistance when no other resource is available to military veterans with disabilities in Kansas, to ensure their dignity, health and overall well-being. This program is a valuable lifeline for many of our Kansas veterans and their families. Capper Foundation hosts emergency resources to support military veterans who have given so much to the entire country. All applications for emergency assistance funds must be referred by a Veterans Administration advocate or case manager. For more information or to donate to the fund, call (785) 272-4060 or email.
Resources
Equipment Loan Bank
Capper Cupboard
View all resources
Training
Development of staff, families and community are key to future achievements for those receiving services and for those interacting with individuals with disabilities in the community. Capper Foundation provides training and workshops for professionals in the health services industry requiring CEU's, as well as local businesses.
How Many People Reached
1,800 people annually.
How Donations Are Used
Financial contributions are critical in order to provide funding for the services they provide to infants, children, teens and adults. While about 65% of the cost of services is reimbursed through state and insurance sources, the remaining 35% is dependent on the generosity of their donors. The gap represents the funding shortfall of revenue received via reimbursement in relationship to their budget needs to provide high-quality, person served programs.
Project Spotlight
Prior to COVID-19, pediatric therapy services were provided in-person. The pandemic has challenged their delivery of therapy to children, resulting in adapting to using teletherapy for families who have internet access. While hands-on services are most effective, teletherapy has proven to be helpful in providing some level of intervention for children so they are not totally left without services. Some children receiving Speech and Occupational Therapy have responded quite well to tele-services, as they are able to apply their working goals in their home environment. Others requiring physical therapy are more challenged to adapt to tele services.
Awards or Accreditations
Charity Navigator 4 Star Rating for the past 7 consecutive years, listing Capper Foundation in the top 6% of non-profits in the U.S.
Interesting Facts
Capper Foundation celebrates its 100th Anniversary in 2020! Founded Christmas Day, by U.S. Senator Arthur Capper, the organization provided medical financial assistance to children across the country afflicted with polio. The non-profit has evolved over the past century, responding to the needs of individuals with disabilities to receive life-changing services for their lifespan.
Where To Donate
Donate here or
Text Donations:
Text "give" to (785) 428-0945
Newsletter Sign-up