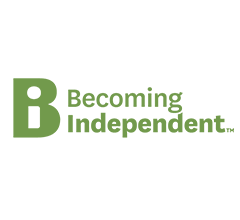 Mission
Becoming Independent (BI) helps people with developmental disabilities live meaningful and productive lives. BI is a nonprofit community benefit organization serving the North Bay with a purpose to elevate human abilities for the mutual benefit of our Community. BI's core values of human dignity, empowerment, integrity, community and innovation are at the heart of its vision – a community of innovative partnerships, fostering authentic human connections.
Services Provided
Becoming Independent serves people with varied interests and life objectives who share a common goal of discovering – and maximizing – their abilities. They are workers, students, artists, volunteers, family members and neighbors. Nearly 1,000 people throughout the North Bay avail themselves of opportunities to explore their unique interests and achieve their life goals by accessing BI's Day Programs, Independent Living Support, and Employment Support. Becoming Independent's philosophy and approach to service delivery affords men and women the opportunity to be productive, engaged community members. BI believes its pioneering model has and always will break barriers for people with disabilities.
Services provided:
Day Programs
Independent Living Support
Employment Support
How Many Reached
Annually, Becoming Independent reaches close to 1,000 people.
How Donations Are Used
General donations go directly to fund our vital programs.
Project Spotlight
When the COVID-19 pandemic hit BI's community, it halted the ability to provide face-to-face support for the individuals they serve. As a result, they knew it needed to shift its energies toward reinventing its 50-year-old service model. Fortunately, adaptation, resiliency, and innovation are the core values that makes Becoming Independent. They began re-imagining their services to meet the immediate and long-term needs of the individuals they serve by providing them and its staff with access to technology to stay connected with one another and their community. Before long, they had a whole virtual community. For the lucky few who possess their own technology, this shift worked well, enabling them to stay connected and engaged. However, for those who rely upon BI for access to technology, the pivot has been far more challenging. And so, BI started a $500,000 Technology Campaign to help raise funds for devices and training to close the gap. To help make a difference in keeping the BI communities connected, anyone can donate to the Technology Campaign. Gifts of all sizes make a life-changing impact for people with developmental disabilities in the BI community. The funds BI receives don't just go towards purchasing laptops, mobile phones and hot spots; they fund the expansion of each individual's universe. Everyone deserves to be seen and to belong.
Awards or Accreditations
Becoming Independent has been honored with many awards including Community Hero Award for their volunteerism in the community, North Bay Business Journal's 'Best Places to Work' (for over a decade and counting), and recently, BI's CEO was awarded KPIX5's Jefferson Award for her leadership and impact in the community. View full list.
Where To Donate
Virtual Events