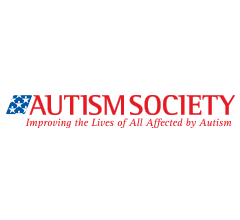 Mission
The Autism Society envisions a world in which individuals and families living with autism are able to maximize their quality of life, are treated with the highest level of dignity and live in a society in which their talents and skills are appreciated and valued.
The development of five "core competencies" as a means to implement the Autism Society's Mission and Vision, is proposed in the Autism Society's strategic plan. Those areas include: Advocacy, Education, Information and Referral, Support, and Community.
Services Provided
Education and Awareness
The Autism Society provides easy-­to­-understand, practical information related to the autism spectrum for a broad audience on a wide range of educational topics to empower people to more effectively advocate and obtain supports. The Autism Society works to educate autistic individuals, their loved ones, professionals from multiple disciplines, and the public at large about autism and issues within the autism community in order to foster acceptance and appreciation of individuals on the autism spectrum as the valued members of our community that they are. Key efforts in this area are outreach materials, programs, toolkits for National Autism Awareness Month in April, and a wide variety of published materials and website resources.
Advocacy and Public Policy
The Autism Society's advocacy and public policy efforts have continually improved the lives of those affected by autism. At the national level, the Autism Society supports the needs of the millions of individuals impacted by autism in America and their family members. At the state level, the Autism Society helps its affiliate network advancing advocacy efforts at the state level to advance the wellbeing of individuals and families impacted by autism. Each year, volunteers and staff from around the nation come to Washington, DC to meet with their national elected officials and to promote a responsive and accountable national legislative agenda to advance the quality of life of all on the autism spectrum.
Autism Core Services
The Autism Society offers support to individuals and families affected by autism with information and referral services provided by trained professionals through its National Helpline (800-3-AUTISM) and Autism Source™, a comprehensive national database offering credible and reliable resources that aligns people with support and services in their local communities. The Autism Society has also developed standards of performance for its local community-based network of affiliates and provides oversight and support to those affiliates to advance the quality and efficacy of services people receive at the local level. The Autism Society also has specific initiatives to advance inclusiveness in the community for those affected by autism, including its Safe and Sound, Inclusive Faith and Sensory Friendly Films initiatives.
Affiliate Network
The Autism Society relies upon the tremendous work and support of their local and state affiliates. Local and state affiliates are the primary approach through which the Autism Society helps individuals and families throughout the United States. To find an affiliate in your area, click here.
How Many People Reached
"Collectively, the Autism Society was honored to serve and support over 522,000 people nationwide in 2019. More specifically, the organization fostered community as 38,000 people attended support groups for self-advocates, parents, teens, and others. 12,000 people attended conferences hosted by the Autism Society network, expanding their knowledge and skill sets; in total, the network hosted more than 6,200 events for the autism community across the country providing education, resources, support and community." - 2019 Annual Report, pg. 2
In addition, the Autism Society has supported over 160,000 people during the ongoing COVID-19 pandemic, and over 158,000 people have tuned in to its Facebook Live: Coronavirus Information Series.
Social Media
Facebook: 648K+
Twitter: 115.5K+
Instagram: 10.5K+
How Donations Are Used
$10 helps the Autism Society of America continue to create social stories, resources, and supports for the autism community to cope throughout COVID-19.
$50 helps bring together more support from self-advocates and industry experts through its Coronavirus information series on Facebook Live, including advice for mental health and respite care.
$75 helps provide an hour of support through its National Hotline to provide information, resources, and referral services.
$75 helps continue its advocacy efforts.
Project Spotlight
The Autism Society was the first national autism organization to provide a Covid-19 toolkit and resources to support the autism community. Their comprehensive toolkit on our website, which provides COVID-19 information and resources by topic, including Mental Health & Respite, Modifying Routines, Lifestyle Supports, and much more. Click here to access its free COVID-19 toolkit.
The Autism Society of America and the Institute for Community Inclusion are proud to present the Competitive Integrated Employment Toolkit, a toolkit created to provide site staff with considerations and resources for assisting people on the autism spectrum and other developmental disabilities who are looking for employment. Autism Society & ICI ThinkWork's Competitive Integrated Employment Toolkit
The Autism Society of America launched a Facebook Live series dedicated to providing relevant, COVID-19 information for the autism community. The weekly broadcast features an expert discussing specific topics like mental health, federal emergency funding, and continuing education at home. Click here to learn more about our upcoming episodes and access our archive of past episodes.
Awards and Accreditations
The Autism Society has been honored to receive numerous awards.
Where To Donate
Newsletter Sign-up