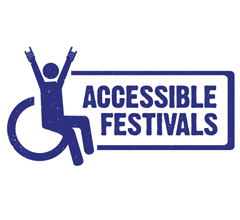 Mission
The mission of Accessible Festivals is to foster connection and understanding through the universal language of music, to provide a platform where people of all abilities and identities can connect and build relationships, and to inspire the creation of safe, inclusive, and equitable communities.
Services Provided
Accessibility is a fundamental right for all people of all abilities and throughout every facet of life. While various efforts are made by governments, organizations and individuals to provide accessible accommodations for infrastructure, education and employment, not much has been done to make live music and other entertainment and recreational events accessible. The ADA has very limited language surrounding this area of need; yet it can be just as important as any other aspect of accessibility. Thus, Accessible Festivals strives to close this gap and focuses on providing resources within the live entertainment and recreational field. By bringing together like-minded organizations and individuals, sharing knowledge and resources, and aligning our vision with one another, we can take the next step in ensuring people of abilities are able to have the quality of life they dream of.
How Many People Reached
20,000+ attendees
300+ volunteers
150+ events supported
How Donations Are Used
Accessible Festivals provides direct services, consultation, and training to professionals in the entertainment industry, while educating the general public about the value of inclusion and accessibility through innovative events and experiences.
Project Spotlight
Beginning on December 10, 2020, Accessible Festivals will be hosting a Virtual Auction event to support their mission of creating more inclusive, accessible communities with music and recreation for all.
Accessible Festivals is dedicated to making live music and recreational events fully accessible for people of all abilities. By educating the public and bringing together like-minded organizations, the organization has made its mission to end the stigmatization involved with having a disability so that everyone can have the opportunity to have amazing experiences, regardless of ability.
Currently there are 61 million adults in the United States who live with a disability. 26 percent (one in 4) of adults in the United States have some type of disability across the country. The virtual auction event hosted by Accessible Festivals will celebrate the importance of music and recreation in all of our lives, featuring auction items for music fans across the country, including Coachella tickets and EDC (Electric Daisy Carnival) tickets. Additionally, the auction will feature
tickets to Accessible Festivals' own Inclusion Festival, the nation's first and only music and wellness festival designed to include and accommodate people with autism and other special needs.
While ongoing efforts continue in the civic, corporate, education, private, and non-profit sectors to ensure inclusive and accessible accommodations for all abilities, little has been done to ensure the accessibility of live music, entertainment, and recreational events. Accessible Festivals is committed to filling this void by providing resources, a roadmap, and model that encompasses, engages, and celebrates the inclusion of people of all abilities in enjoying the social, emotional, and health benefits of recreation and leisure experiences. Their in-person and online Inclusion Festivals, ticket gifting program, and training and consultation services provide a robust and innovative approach to achieving this goal.
The virtual auction will provide critical funding, enabling Accessible Festivals to continue their mission and support the changing landscape of the music and recreation industries as COVID-19 continues to redefine issues of access and inclusion for all.
The auction opens Thursday, December 10th at 12pm EST (9am PST) and will run until Thursday, December 17th at 8pm EST (5pm PST). To sign up, or for more information, visit www.accessiblefestivals.org.
Awards and Accreditations
Read about Accessible Festivals featured in Forbes Magazine.
Interesting Facts
Six months after a car accident that severed his spinal cord and took away his legs, Austin Whitney attended his first music festival. For the first time since his spinal cord injury, he was able to smile and simply enjoy life. While the accessibility of the festival was limited and didn't fully provide the necessary accommodations, he was still able to enjoy the live music experience. Realizing how much better of an experience he could have had with the proper accommodations, he decided to devote his life to ensuring people of all abilities can have an equal opportunity to experience live music and recreational activities to the fullest extent possible.
Where To Donate
Newsletter Sign-up