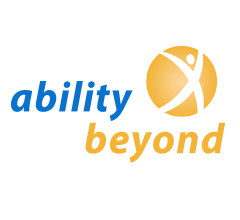 Mission
The organization is dedicated to empowering individuals, no matter their ability, to live with independence, work with dignity and thrive in their communities.
Services Provided
Services include residential alternatives, employment training, career counseling, job placement services, cognitive and life skills instruction, and clinical and therapeutic supports in New York and Connecticut.
How Many People Reached
2000-3000 people and their families each year.
How Donations Are Used
To make up for shortfall between government reimbursement and the actual cost to provide services.
Where To Donate
Contact
Connecticut Office
4 Berkshire Blvd.
Bethel, CT 06801
(888) 832-8247
info@abilitybeyond.org 

New York Office
480 Bedford Rd.
Chappaqua, NY 10514
(866) 997-5781
Newsletter Sign-up