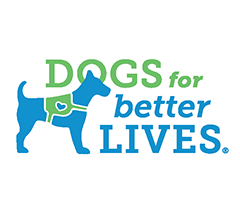 Mission
Dogs for Better Lives' mission is to professionally train dogs to help people and enhance lives while maintaining a lifelong commitment to all dogs we rescue or breed and the people we serve.
What services does Dogs for Better Lives provide?
Dogs for Better Lives' programs are based on the premise of creating equity for our clients that face additional challenges. DBL trains dogs to serve people with disabilities—adults with hearing loss and children diagnosed with autism. Legislation such as the Americans with Disabilities Act (ADA) and the Individuals with Disabilities Act (IDEA) is helping to address this discrimination by ensuring that individuals with disabilities have access to education and services. However, there is still progress to be made in many areas, particularly in the realm of social connectedness and community. Besides helping people navigate their day-to-day lives more safely and independently, Assistance Dogs can act as an important social bridge for people who often feel isolated.
Hearing Assistance Dogs
Trained to alert people to sounds at home and provide greater environmental awareness in public for everyday safety and independence.
Autism Assistance Dogs
Trained to enhance the safety of children with autism by acting as an anchor and preventing the child from bolting. (Currently available in Oregon, California and Washington.)
Facility Dogs
Work with and assist professionals such as physicians, teachers and counselors. Facility Dogs help to reduce stress and anxiety that students or clients may be experiencing.
How many people does Dogs for Better Lives reach?
1,300 dog placement to date.
How are donations used?
100% of donations go towards rescuing, raising, training, and placing Assistance Dogs throughout the U.S., allowing DBL to continue to provide Assistance Dogs to people in need, regardless of income level or ability to pay.
Is there a current project that you would like to highlight?
DBL places Assistance Dogs throughout the U.S. Jessica, whose 6-year-old son, Liam, has autism, says that people often don't realize how isolating it can be to have a child on the spectrum. "Because of the difficulties in taking Liam to a grocery store or elsewhere—becoming overstimulated and instant judgment from people—it was easier to not go out," she said. Jessica had safety concerns, as well, and worried that Liam might run off when out in public. When Liam met Dumas, a 2-year-old yellow Labrador retriever trained as an Autism Assistance Dog by DBL, the connection was instant. "They have the same personality in different species," Jessica noted. Now, events the family once thought would never be possible are normal occurrences. Jessica explains, "Dumas is like an extension of me. Now I have confidence that when we are out, Dumas will alert me if Liam is doing something I need to know. He's my eyes and ears, my extra help."
What is an interesting fact that you would like to spotlight about your organization?
Dogs for Better Lives was founded in 1977 by the late Roy G. Kabat. Roy worked with exotic and domestic animals for movies and television and had a small traveling circus. After retiring to the Applegate Valley in southern Oregon, he was contacted by the American Humane Association and their headquarters in Denver, Colorado. A deaf woman in Minnesota had owned a dog that trained itself to let her know when sounds were occurring in her home. As she lost more of her hearing, her dog alerted her to more and more sounds. After her beloved dog died, the woman realized how much she had come to depend on the dog and began a search for someone to train a new dog for her. The American Humane Association initiated experimental work trying to train dogs to help people who were deaf, and they contacted Roy for advice. After spending two weeks in Denver, Roy returned to Oregon and began Dogs for the Deaf.
Any additional information to share?
Dogs for Better Lives prides itself on being fiscally responsible, fully transparent, and is a top-rated 4-star nonprofit with Charity Navigator, seven years running.
Contact
Dogs for better Lives
10175 Wheeler Road
Central Point, OR 97502
(541) 423‐8343