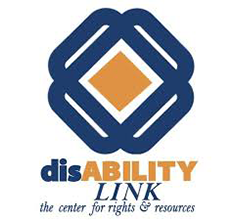 Industry
Community and Services
Mission
disABILITY LINK is an organization led by and for people with disabilities and promotes choice and full participation in community life.
Services Provided
5 Core Services: information and referral; independent living skills training; individual and systems advocacy; peer counseling; transitional services
How many people does disABILITY reach?
In 2018, we served approximately 11,000 individual services to people with disabilities.
How Donations Are Used
To support our 5 core services, which were subdivided into over 16 different areas in 2018.
Current Project to Spotlight
We are committed to supporting youth transitioning to adulthood through peer support, job & social readiness and skills acquisition.
National or International Awards
disABILITY LINK was selected as a leader and participated in a Disability, Diversity, and Intersectionality project with Independent Living Research Utilization (ILRU). disABILITY LINK's Executive Director has received numerous regional and national commendations for her work in the independent living disability community. In addition, staff have received numerous national awards for their advocacy work. In 2017 disABILITY LINK was named as one of the top 10 experts in the ADA.
Interesting Fact to Spotlight
disABILITY LINK is led by, and for, people with disabilities and is a peer support model promoting independent decision-making.
Where To Donate
Contact
1901 Montreal Rd, #102
Tucker, GA 30084
Newsletter Sign-up