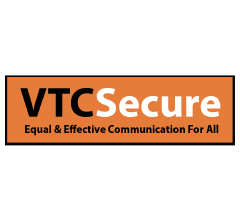 Industry
Assistive Technology
Mission
VTCSecure is a global leader in communication access for those with disabilities. VTCSecure is comprised of a hand-picked group of industry telecom experts, disability specialists and elite management who use the latest technology and implemented best practices to create the most advanced next generation communication solutions. Its focus is to set a higher bar for accessibility providing answers to communication problems by delivering the communication tools necessary for all people to do their jobs and live their lives to the fullest extent imaginable. VTCSecure designs, creates and hosts advanced communication service software for businesses, governments and citizens around the globe. Its service based cloud solutions can be used to enhance a user's current business processes, deliver functional equivalence to those with disabilities and provide a next generational call center experience for your customers by providing the very best secure on-demand Voice, Video, Real-Time Text and Speech Transcription services available.
Accessibility Community
Deaf, Hard of Hearing and Blind.
Products and Services Provided
VTCSecure's SOLVES platform is a Video, Voice, Real-Time Text and Automated Speech to Text Accessible Communications Solution. It is a comprehensive, set of secure, open source, standards based advanced communication tools comprised of server side software and apps for most major operating systems that can be instantly deployed and configured to meet any communication requirement. It's cloud hosted, web based, scalable, customizable, user friendly, and built on ITU standards so its reachable from most video endpoints in use today, including VTCSecure's app for Android, iOS, Mac & PC, as well as a click-to-call link on a webpage using WebRTC or any other SIP standard Video Phone.
VTCSecure Solutions were engineered with accessibility in mind making it the only choice to accommodate the Deaf, Deaf Blind, Blind, Low Vision, and Hard of Hearing Customers from one solution. Platform currently being used for VRS, VRI, Deaf to Deaf call centers, VRA for the Blind and Live-Online Career Fairs worldwide.