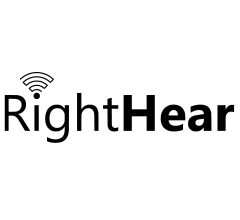 Industry
Assistive Technology
Mission
Turning public spaces into accessible areas for the blind, visually impaired, and orientationally challenged.
Products and Services Provided
RightHear developed an audio wayfinding solution that allows the blind, visually impaired, and orientationally challenged to understand their surroundings independently
RightHear is a 3-part audio wayfinding system that consists of our app, the online dashboard, and smart beacons. The app is free to all users available on Apple App Store and Google Play. The online dashboard can also be accessed through its website by creating a free account. Managers of public spaces that are RightHear enabled use the dashboard to assign each beacon in their space specific descriptions that the user will then hear when using the app. Information changed in the dashboard is instantly uploaded to the beacons once they are saved. As for the beacons, they are self powered Bluetooth beacons. They can be placed anywhere with their adhesive sticker and can last between 3-4 years before having to replace their small batteries.
Interesting Facts
RightHear believes that its user's (those who require accessible locations) should not have to pay for accessibility, hence our app is free, unlike other solutions.