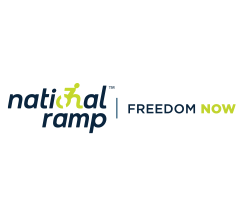 Industry
Mobility Support
Mission
Freedom Now. It's not just National Ramp's mission, but its purpose. Not just its purpose, but its promise. It's who National Ramp is and what they do. The very nature of its business, of every team member, is purposefully built to deliver to its clients this promise.
Products and Services Provided
Ramps provide safe and secure access into residential and commercial buildings across the US and Canada. With it's brand promise of Freedom Now at the core of all they do, National Ramp strives to provide the fastest ramp installations in the industry. Request an estimate.
Interesting Facts
The current owner was formerly a dealer of National Ramp products, and purchased the company in 2012. The experience of working with consumers directly and seeing first-hand how their lives were impacted by the DME/HME they received, motivates the company to provide excellent service and Freedom Now.