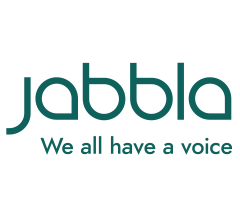 Industry
Assistive Technology
Mission
Everyone's personality and freedom starts with the ability to say what they want, feel and think. "We all have a voice." Unfortunately, speaking is not such an easy task for everyone. Jabbla is committed to providing solutions for those who cannot express themselves, or who have difficulty expressing themselves. Jabbla specializes in augmentative tools in the field of speech technology and always make the needs of its users its starting point. Its clients are their inspiration and they will go to extremes to get it right. With its tools, Jabbla wants to forge a bridge between the user and his/her environment. Read more on its About page.
Contact Jabbla or one of its partners. Jabbla has an international network with resellers in Australia, Canada, Europe, Russia and the U.S.
Products and Services Provided
Jabbla develops augmentative tools in the field of speech technology, i.e. communication software and devices, and vocabularies.
Jabbla's software Mind Express is designed to be as personal and flexible as possible. Using its software, people can learn to communicate independently using symbols and letters, or a combination of both. It is accessible with a touch screen, a mouse or trackball, a joystick, one or two switches, head tracking and eye gaze. We have built a Mind Express website where everyone can upload their own pagesets and download resources.
Jabbla's communication devices can be adapted to their users, they have a wide range of features (integrated second display to allow face-to-face communication, ESC-button, an ergonomic wake-up feature, etc.) and different control options. Some users need a light and mobile device they can take with them anywhere, others need a powerful communication device.
Jabbla provides communication devices such as the Allora, Smart, Vibe and Tellus (with integrated eyegaze: Tellus i5).
Jabbla also offers communication vocabularies such as PODD, SCORE, Gateway, Amego, Steps before Step Scanning (Linda J. Burkhart files), Steps to language, etc. These vocabularies have been developed together with language experts and university scientists. They contain different levels with a varying number of words and concepts. Thanks to these levels, they can grow in line with language development, so one can start working with it from an early age.
Additionally, Jabbla has developed SprintPlus, our software package for children, young people and adults with reading and learning disabilities. SprintPlus can read out text and it can also help understand text. It will also show an explanatory illustration when a person comes across a word they don't understand. SprintPlus is also a great help when it comes to writing. If one is in doubt about a word, it's easy to look it up. Another great help with writing is the word predictor. While writing, Skippy will make suggestions based on logic but also based on "dyslexic" typo's. This reduces the number of keystrokes and enables the user to process their message much quicker. SprintPlus also offers study tools such as on-screen markers and a quick-summarise tool. SprintPlus supports different languages: English, French, German, Spanish, Italian. The speech technology will help the user to improve their understanding of foreign languages, but it will also teach you the right pronunciation.
Interesting Facts
The history of Jabbla's technology dates back to 1984. At Ghent University, the first Belgian voice computer was developed for 20-year-old Marleen. As a step towards more self-reliance, her parents wanted her to be able to communicate independently. Thanks to the BLISS voice, her first communication device, this became a reality.
Headquarters
Foreestelaan 3
9000 Ghent, Belgium
+32 9 331 58 58
info@jabbla.com