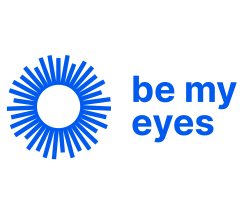 Mission
Our mission is to enable blind and low-vision individuals to lead more independent lives by giving them access to a global network of sighted volunteers and partner companies for live visual assistance.
Company History
The Be My Eyes story started in Denmark in 2012 with Hans Jørgen Wiberg, a Danish furniture craftsman, who is visually impaired himself. Through his work at 'The Danish Association of the Blind', he recognized that blind or low-vision people often needed a little assistance to solve everyday tasks. However, it wasn't until a blind friend told him that he used video calls to connect with family and friends, who could help him with these tasks, that Hans Jørgen got the idea for Be My Eyes. He believed that the technology of video calls could be used to visually assist blind or low-vision individuals, without them having to rely on friends and family, but using a network of volunteers.

In April 2012, Hans Jørgen presented his idea at a Danish startup event, where he got connected with a team that was ready to make Be My Eyes a reality. On January 15th 2015, the Be My Eyes app was released for iOS, and within 24 hours the app had more than 10,000 users. Since the release of the iOS app, an Android version has been in high demand. The Android version was finally released on October 5th 2017. In December 2017 Be My Eyes was chosen as Google Play Best Apps of 2017 in the categories; "Most Innovative", "Best Daily Helper" and "Best Hidden Gem", and in May 2018 Be My Eyes won the Google Play Award 2018 for "Best Accessibility Award".

In February 2018, the feature Specialized Help was launched with Microsoft as first partner company. Specialized Help enables blind and low-vision users to connect with official company representatives for accessible and efficient customer support.
Services Provided
Be My Eyes gives blind and low-vision individuals access to a community of sighted volunteers and partner companies through a free smartphone app. When a blind or low-vision user needs assistance they can initiate a live video call through the app. We also help businesses and organizations support people who are blind or have low vision, so that individuals with vision loss can be supported in all areas of life. Be My Eyes offers the following solutions:
The original and most well-known, Be My Eyes service is the network of sighted volunteers. If a blind or low-vision user needs sighted assistance with anything from reading labels or matching close to finding dropped items they can connect with one of the more than 4 million volunteers worldwide that speaks their own language. When downloading the app, people will choose whether to sign up as a sighted volunteer or as a blind or low-vision user. When a user requests assistance, a group of volunteers will receive a notification on their device, and the first to answer will be connected to the caller through a live video call.
Even though the volunteers can assist with a wide array of tasks, sometimes the issue can be too complicated for the volunteers to solve. That's why we partner with businesses and organizations to use Be My Eyes as an accessible customer support platform and have their own support agents guiding and assisting visually impaired customers with their products and services. Compared to traditional support channels, the agents will have access to the visual aspect that the visually impaired customer often can explain. This will enable the support agents to guide and assist the visually impaired customer better and more efficiently. To request assistance from one of Be My Eyes' partner companies, all the user has to do is enter the Specialized Help menu from the Be My Eyes home screen and select the company or organization they'd like to connect with.
Be My Eyes for Work allows employers to support their blind and low-vision employees by giving them access to a group of sighted colleagues that can visually assist with work-related tasks. While the sighted volunteers can give great assistance in many different situations, blind and low-vision individuals are often dealing with sensitive or proprietary information while at work. By having access to a closed group of sighted colleagues, visually impaired employees can get the necessary assistance to move on with their work - without any information leaving the organization.
Make your event accessible for blind and low-vision participants with Be My Eyes experiences. Whether they need live, personalized audio description of the event, or assistance navigating the event space, Be My Eyes Experiences is an easy solution that lets them connect with the event team or volunteers at the time of the event.
Let your employees make a difference for the blind and low-vision community through our Corporate Volunteering program. A Corporate Volunteering program with Be My Eyes can help you strengthen your company's CSR strategy and motivate your employees to make a difference through a flexible volunteer program.
Interesting Facts
Be My Eyes has more than 4 million volunteers located in more than 150 countries worldwide who can assist in more than 185 languages.
Contact
Be My Eyes
1155 Market St.
10th Floor
San Francisco, CA
Blind and low-vision users
can call the support team
through the Be My Eyes app
info@bemyeyes.com