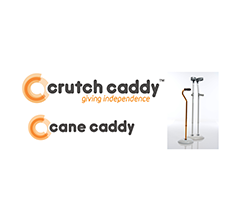 Industry
Mobility Support
Mission
To identify and create unique products to improve independence in the disability sector.
Products and Services Provided
Crutch Caddy is a unique mobility aid designed to safely stand a pair of crutches in an upright position next to the user, ready for use. Currently, they supply Mobility Aid distributors, retailers and directly to hospitals and Veterans in Australia and are seeking distribution for export to the USA.
Interesting Facts
Having identified a gap in the market of a product capable of holding a pair of crutches in a vertical position, Ausinnovation Pty Ltd designed a unique mechanism that not only holds crutches; but also canes, upright next to the user. Being lightweight, it is very portable and has glow in the dark technology added as a hazard prevention.
Contact Info
Ausinnovation Pty Ltd
Malcolm Boyce
Ballarat 3350, Victoria
+61 406551787