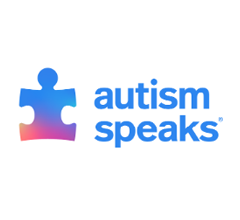 Mission
Autism Speaks is dedicated to promoting solutions, across the spectrum and throughout the life span, for the needs of individuals with autism and their families. We do this through advocacy and support; increasing understanding and acceptance of people with autism; and advancing research into causes and better interventions for autism spectrum disorder and related conditions.
Services Provided
Because research confirms that each person with autism is unique, we aim to address diverse needs. To address individual challenges and build upon strengths, Autism Speaks:
1. Is a catalyst for life-enhancing research breakthroughs by:
Advancing research into the causes of autism, including identifying new autism-linked genes
Focusing on accompanying medical conditions and personalized treatments that enhance quality of life
Funding and advocating for research
Launching highly promising pre-doctoral students into careers in autism research
2. Increases early childhood screening and timely interventions by:
Providing families with free access to the M-CHAT, the recommended risk assessment screening questionnaire for children 16 to 30 months old
Sharing a telelearning series for families with newly diagnosed children
Aligning with families, professionals, advocacy groups and governments in more than 70 countries to lower the age of diagnosis and increase access to care
3. Improves the transition to adulthood by:
Sharing a telelearning series focused on transition
Providing resources on postsecondary education, housing, job training and employment
Collaborating with companies to increase employment opportunities for autistic adults
Successfully advocating for Congress to enhance state savings plans, known as Achieving A Better Life Experience (ABLE) programs
Providing opportunities for autistic people to advocate with elected officials through the Advocacy Ambassador Program
Working to lower the age that autistic teens start the transition process from 16 to 14 by advocating state by state
4. Ensures access to reliable information and resources across the life span by:
Connecting the autism community via autismspeaks.org, where resources are searchable based on age, location and level of need
Answering questions and connecting autistic people and their families with local resources via the Autism Response Team (ART) at 1-888-AUTISM2 (en Espanol: 888-772-9050) or help@autismspeaks.org
Facilitating high-quality care through the Autism Speaks Autism Treatment Network (ATN), a collaboration of 12 specialty centers across the U.S. and Canada
Providing community organizations with local grants that can be used for scholarships, recreational programs and more
Successfully advocating for medical insurance coverage of autism treatment, now in all 50 states
Providing more than 40 free tools kits with topics that range from the first 100 days after diagnosis, to the transition to adulthood, to dealing with everyday situations (like wandering, dental visits, haircuts, financial planning or job interviews).
5. Increases global understanding and acceptance of people with autism spectrum disorder by:
Engaging millions of people around the world during April, World Autism Month, and throughout the year

Welcoming more than 1.5 million visitors each month to autismspeaks.org

Using our social media channels to share stories from people with autism

Maintaining a year-round national calendar of autism-friendly events
Please visit the Autism Speaks 2018 Annual Report to learn more about our efforts toward each of these key mission objectives.
How many people does your organization reach?
Since inception in 2005, Autism Speaks has aided more than 22.6 million people through funded services and support. A more in-depth look at how we help and reach our audience can be found here.
How are donations used?
85 cents of every dollar funds research, advocacy programs and services.
Our goal is to do the most good for the most people. We invest in programs that can have widespread, meaningful impact for many more people than we could ever help individually. Through our strategic plan, we are working toward increasing funding in every mission area.
Our fundraising supports people in every community by providing 24/7 access to online resources, being the primary source of information and referral, and advocating at the federal and state level. In addition, our grants to organizations working in communities around the country can have the most lasting impact on autistic people and their families. Since 2007, we have provided nearly 2,000 grants totaling $14 million to organizations, individuals and families, across every state in the U.S.
Autism Speaks funds grants to local service providers who then use the funding to increase services in education, recreation and community activities, transition to adulthood, and adult services such as career readiness programs.
Is there a current project to highlight?
Now more than ever the autism community needs kindness as COVID-19 continues to have an impact on our daily lives, presenting unique challenges. April was World Autism Month; a month typically filled with autism-friendly events and educational activities to increase understanding and acceptance and to foster worldwide support. Due to COVID-19, many of the regularly scheduled activities were cancelled. Committed to keeping the spirit of the month alive, we organized Steps for Kindness, an event where we asked supporters to walk 5,400 steps in support of the 1 in 54 U.S. kids with autism. Whether the steps were inside, safely in a neighborhood or on a treadmill, every step counted and helped us to make 2020 the year of kindness by achieving 1 million acts of kindness, big and small.
Our goal for the year is to continue to create a kinder, more inclusive world for people with autism. We encourage supporters to participate in the initiative by visiting autismspeaks.org/kindness where they can:
Any additional facts to spotlight on Autism Speaks
The time and energy often needed to ensure that prescribed treatments are covered can complicate what may already be a stressful time for families faced with a diagnosis of autism. Due largely to the advocacy of Autism Speaks, all 50 states plus the District of Columbia and U.S. Virgin Islands now require the meaningful coverage of treatments and therapy associated with autism spectrum disorder. Autism Speaks continues to work with state and federal policymakers to strengthen these policies in ways that improve access to care for the autism community. For more facts and stats about Autism Speaks, please refer to our How We Help infographics.
Where To Donate
Join Newsletter
Email