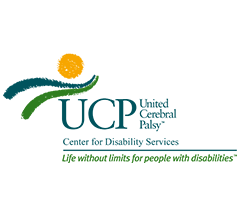 Industry
Research & services
Mission
United Cerebral Palsy-Center for Disability Services will provide excellence in program delivery, research driven practices and techniques, state-of-the-art technology and services for individuals and families impacted with the challenges of disabilities.
United Cerebral Palsy-Center for Disability Services, assists individuals with disabilities to achieve their full potential. Proud United Way agency.
Services Provided
Family Support/Respite
The Home Based Support Services Program for adults and children provides a monthly budget for individuals with developmental disabilities to purchase needed services such as personal support worker services, developmental training, behavior support and transportation. The program also provides access to adaptive equipment and assistive technology, as well as home and vehicle modifications.
The Respite Care Program allows a primary caregiver occasional respite by providing families with up to 360 hours of in-home care annually for their family member with developmental disabilities.
The After-School Respite Program provides group respite for students of the Melvin J. Larson School until 5 pm during the school year allowing parents increased flexibility with after school child care plans.
Melvin J. Larson School
UCP-Center for Disability Services' School Program was recognized by the National Association of Special Education Teachers as a 2019—2020 School of Excellence for the third consecutive year. According to Dr. Roger Pierangelo and Dr. George Giuliani, Executive Directors of NASET, "The recognition as a NASET School of Excellence is bestowed on private special education schools that have met rigorous professional criteria and have demonstrated truly exceptional dedication, commitment and achievement in the field of special education."
Adult Day Services
Day Training: Individuals attend Monday – Friday for approximately 5 hours a day. A typical day includes the following activities:
Life Skills Training
Community Outings
Social Skills
Wellness & Leisure Activities
Vocational Training
Recreation/Art Activities
Social Peer Group
Advocacy
Wellness:
Exercise & Fitness Classes
Cooking & Nutrition
Music
Adaptive Technology
Smartboards are ADA compliant interactive learning stations designed to recognize the difference between an arm resting upon the screen and a finger or assistive device intentionally tapping an image. The new Smart technology is within reach for people using wheelchairs, walkers or other mobility devices, providing full access to the screen with easy adjustments that adapt to individualized needs.
How Many People Reached
1,000+ per year
How Donations Are Used
Funds are used to purchase technological, classroom equipment, instructional and guided tools to allow individuals living with a disability the opportunity to build upon independence and self-sufficiency.
Project Spotlight
The recently added Community Day Services Program Instructional Classroom.
Awards and Accreditation
The UCP-Center for Disability Services accreditations are the National Association of Special Education Teachers NASET, and Guidestar Exchange Gold
Interesting Facts
For over 65 years, United Cerebral Palsy-Center for Disability Services has provided support and direct services to individuals and families impacted by the challenges of developmental disabilities, in addition to providing community awareness and advocating for issues pertaining to those with developmental disabilities. The focal point is the coming together of a diverse group of people joined in a common bond, searching or growth, fulfillment, self-realization, and dignity. UCP-CDS remains committed to do whatever is necessary to meet those needs and to maintain the high quality of program and services in order to improve the lives of individuals its serve.
Where To Donate
News and Events