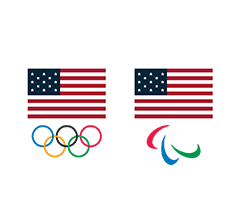 Mission
Empower Team USA athletes to achieve sustained competitive excellence and well-being.
Services Provided
Founded in 1894 and headquartered in Colorado Springs, Colorado, the United States Olympic & Paralympic Committee serves as both the National Olympic Committee and National Paralympic Committee for the United States. The USOPC is focused on protecting, supporting and empowering America's athletes, and is responsible for fielding U.S. teams for the Olympic, Paralympic, Youth Olympic, Pan American and Parapan American Games, and serving as the steward of the Olympic and Paralympic movements in the U.S.
A federally chartered nonprofit corporation, the USOPC does not receive federal financial support (other than for select Paralympic military veteran programs) and is one of the only NOCs in the world that also manages Paralympic activities.
Approximately 82% of the USOPC's budget has a direct impact on its mission of supporting athletes via a variety of programs for both athletes and their National Governing Bodies.
In addition to performance grants and rewards, additional support is provided in the form of training facilities, sports medicine and science, coaching education, health insurance, promotional opportunities, education and career services, outfitting and travel, and safe sport and anti-doping programming. For more details, view our investment strategy.
Additionally, the USOPC oversees the process by which U.S. cities bid to host the Olympic/Paralympic Games, the Youth Olympic Games or the Pan/Parapan American Games, while also playing a supporting role in the bid processes for hosting a myriad of other international competitions. Further, the USOPC approves the U.S. trials sites and procedures for the Olympic, Paralympic, Youth Olympic, Pan American and Parapan American Games team selections.
How Donations Are Used
One hundred percent of gifts to the foundation go directly to athletes and the high-performance programming that supports them. These funds support the following initiatives.
NGB Support
Direct support is strategically allocated to give the greatest number of American athletes the opportunity to reach the podium. The USOPC also provides administrative and operational support to help NGBs create viable plans for resource generation and long-term competitive success.
Athlete Support
The USOPC is committed to creating sustainable programs that emphasize holistic athlete development. In addition to monetary grants, the USOPC offers athletes a variety of medical, education and career development programs.
Medical Benefits: The Elite Athlete Health Insurance Program and National Medical Network provided elite athletes more than $6 million in services per year. The programs are designed to offer convenient medical care and health insurance support, while minimizing athletes' out-of-pocket expenses. After launching in August 2013, the National Medical Network delivered medical care to more than 500 athletes through partnerships with eight top-tier medical providers in four states, while insurance benefits were provided to 1,108 athletes throughout the year.
Athlete Career and Education: A total of 186 athletes received tuition assistance through the Athlete Career and Education (ACE) Program. With support from USOPC sponsor DeVry University, ACE more than doubled tuition assistance, providing aid to 135 athletes compared to 61 in 2012. Additionally, the program increased job placements by 36 percent, supporting 263 athletes across four partner organizations. Under a new, unified structure, the program developed an online platform to enhance athlete and employer engagement.
Training Sites
The USOPC partners with 16 U.S. Olympic and Paralympic Training Sites to provide world-class training facilities to American athletes. Located in 13 states across the country, these sites served nearly 500 national team athletes in 2013. Collectively, the sites provided more than $10 million in elite athlete and NGB support.
Is there a current project U.S. Paralympics would like to highlight?
Paralympic sport development supports the nationwide athlete identification and development strategy that introduces Americans with Paralympic-eligible impairments to Paralympic sport and leads them into the athlete pipeline for the U.S. Paralympic Team. Take your first step toward the podium by connect with adaptive sport programs in your community by visiting our Find A Club resource.
Interesting Fact
The USOPC is recognized as the National Paralympic Committee in the United States, as recognized by the International Paralympic Committee, and is one of only four organizations in the world to manage both Olympic and Paralympic sport at the national level – and the first to include the distinction in its official name and marks. U.S. Paralympics is responsible for elite sports programming including sending the U.S. Paralympic Team to the summer and winter Paralympic Games. U.S. Paralympics operates as the NGB for six sports: alpine skiing, cycling, Nordic skiing (biathlon and cross-country skiing), snowboarding, swimming and track and field.
Where To Donate
Contact
1 Olympic Plaza
Colorado Springs, CO 80909
(719) 866-3479
Email inquiries.