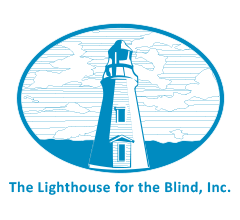 Industry
Manufacturing, Retail, & Advocacy
Mission
"We empower people who are blind, DeafBlind, and blind with other disabilities by creating diverse, sustainable, and meaningful employment opportunities."
Services Provided
At The Lighthouse for the Blind, Inc. they are forging new employment opportunities and innovating accessible technologies and work processes. Through training and technology, the Lighthouse offers a new trajectory for how people live their lives. Their employees inspire others by demonstrating that working with vision loss is possible.
The Lighthouse is the largest employer of people who are blind west of the Mississippi and largest employer of DeafBlind individuals in the United States.
From aerospace machining, production, service businesses, retail, administration, accounting, human resources, employee training, and executive-level management, there are people who are blind and DeafBlind powering everything the Lighthouse does. Over half of its dedicated staff members are blind, DeafBlind, or blind with other disabilities.
Manufacturing
Nearly 70 years ago, the Lighthouse began our machine shop operation. They have been a continual contractor with The Boeing Company since 1952. Today, the Lighthouse is an ISO9001- and AS9100-accredited manufacturer. They specializes in precision machining, assembly, injection molding, and SKILCRAFT Products.
AbilityOne Base Supply Centers
The Lighthouse operates over half a dozen AbilityOne Base Supply Centers (BSCs) up and down the U.S. West Coast, which offers one-stop shopping to military personnel and federal employees.
Managed Services
The Lighthouse offers a variety of services to commercial, federal, and military customers. These include Contract Management Support services for government contracting offices and a Contact Center.
Programs and Services
The generosity of the community allows the Lighthouse to meet people where they are in their journey of vision loss. Employees are able to receive ongoing training and support, enhancing skills that lead to upward mobility in the workplace.
How Many People Reached
Last year, 455 people were provided services.
How Donations Are Used
To support its various assistive programs.
Project Spotlight
The Lighthouse is expanding its programs to enhance services for the Low Vision Community: Lighthouse Low Vision Rehabilitation Services, Lighthouse Low Vision Clinic, and Lighthouse Low Vision Store.
Interesting Facts
The Lighthouse manufactured 4,207,719 aerospace parts, defense products, and office products last year by people who are blind, DeafBlind, and blind with other disabilities.
Where To Donate
Newsletter Sign-up