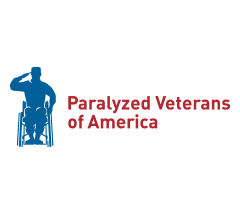 Industry
Veteran Services
Mission
Paralyzed Veterans of America is the only congressionally chartered Veterans service organization dedicated solely for the benefit and representation of Veterans with spinal cord injury or disease.
For more than 70 years, PVA has ensured that Veterans receive the benefits earned through service to the nation; monitored their care in VA spinal cord injury units; and funded research and education in the search for a cure and improved care for individuals with paralysis, including those with MS and ALS.
As a life-long partner and advocate for Veterans and all people with disabilities, PVA also develops trainings and provides career services; fights to provide Veterans with accessible homes, automobiles, transportation, and public buildings and spaces; and provides health and rehabilitation opportunities through sports and recreation. With more than 70 offices and 33 chapters, PVA serves Veterans, their families, and their caregivers in all 50 states, the District of Columbia, and Puerto Rico.
Services Provided
Providing paralyzed Veterans with front-line support, trusted news, and resources to stay safe during the COVID-19 pandemic – including a Disaster Relief Fund for PVA members.
Standing up for the civil rights of all people with disabilities.
Setting new standards for accessible design in architecture, and upholding compliance with the Americans with Disabilities Act.
Ensuring the highest-quality health care for Veterans with SCI/D at VA hospitals and facilities.
Helping Veterans secure the VA benefits they have earned through their service.
Pursuing broad-impact and class action disability advocacy lawsuits in the federal courts.
Funding research to find new treatments for SCI/D.
Educating health care professionals on best practices for treating those with SCI/D.
Helping Veterans, transitioning service members, and their spouses and caregivers find meaningful employment.
Offering adaptive sports and recreation opportunities to enhance the fitness and quality of life of Veterans with disabilities.
How Many People Reached
PVA has over 16,000 proud members, all U.S. Veterans with SCI/D, including those impacted by polio, tuberculosis, MS, and ALS. Through these programs and services, PVA reached a total of 174,000 Veterans, their families, and caregivers in 2019.
How Donations Are Used
Donations to PVA go toward helping the nation's paralyzed and disabled Veterans through public awareness and education; staff and lawyers to secure VA benefits for Veterans, spouses, and widows; annually auditing all VA SCI/D Centers; researching a cure for paralysis; professional education for those in health care; sports and recreation events across the country; and legislation and advocacy. Learn more in PVA's FY19 Annual Report.
Project Spotlight
Fighting for equal access for paralyzed Veterans and all people with disabilities lies at the very heart of PVA's mission. PVA is currently focused on accessible voting, as 50% of polling places were inaccessible in the 2016 presidential election.
As a key contributor to the Americans with Disabilities Act, PVA is committed to breaking down barriers to accessibility in all aspects of public life, including accessible restrooms on airplanes. Learn more about PVA's accessibility work and share your story at PVA.org/ADA.
Awards or Accreditations
PVA is proud to be one of the most trusted nonprofit Veterans service organizations, consistently earning top ratings from GreatNonprofits and GuideStar.
PVA was named Nonprofit of the Year by the DMA Nonprofit Foundation and voted as "Brand of The Year" (Military & Veteran Serving Nonprofit category) in the 2018 Harris Poll EquiTrend study.
Impact Matters has rated PVA a top 5 Veterans Service Organization based on their analysis of PVA's outcomes and costs, and they determined its programs are highly cost-effective.
In September 2020, the Transportation Security Administration presented PVA with the TSA Disability Coalition Partner Award, in recognition of its efforts to educate transportation screeners about the unique needs of people with spinal cord injuries and disorders and screening considerations for people with disabilities during the pandemic.
Interesting Facts
In FY19, PVA's on-staff architects assisted over 50 homeowners, building owners, architects, and contractors requesting help on their design and construction projects to improve accessibility for themselves or others with disabilities. PVA's pro-bono consulting has improved the accessibility of many notable public projects, including the Virginia Governor's Executive Mansion in Richmond, the Dwight D. Eisenhower Memorial in Washington, D.C., the new addition to the John F. Kennedy Center for the Performing Arts, the 1996 Summer Olympics in Atlanta, and the new Minnesota Vikings (U.S. Bank) Stadium in Minneapolis.
Where To Donate
Contact
801 Eighteenth Street NW
Washington, DC 20006-3517
(800) 424-8200
info@pva.org
Newsletter Sign-up