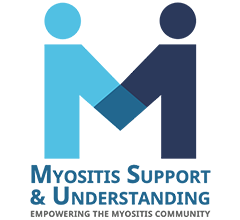 Industry
Advocacy & community
Mission
Improve the lives of and empower those fighting myositis, a disabling autoimmune muscle disease through education, support, awareness, advocacy and access to research
Services Provided
Myositis Support and Understanding Association is a patient-centered organization that provides:
Independent, interactive online platforms that educate and connect patients, caregivers and family members with each other and with healthcare professionals.
Educational resources for patients, families and the healthcare community.
Need-based financial support for assistive devices, medical-related and household expenses
Information-based advocacy with all levels of policy-makers, insurance companies and other medical services and their decision-makers.
Innovations in research and treatments through patient centered research and clinical trial matching
How Many People Reached
The organization has over 11,000 members in its health community platforms and a yearly reach of well-over 180,000.
How Donations Are Used
Donations are used to fund its Myositis Patient Financial Assistance Program, pay program costs and its minimal operating expenses. The Financial Assistance Program, unique among myositis advocacy organizations, was started in 2016 and to date over $120,000 has been given to qualified myositis patients. With the additional financial burden caused by COVID, the organization increased aid per patient to $1500 and focused assistance on emergency household expenses, assistive devices and medical bills.
Project Spotlight
Myositis Support and Understanding Association's free Exercise in Place webinar series was developed with occupational and physical therapists to discuss safe strategies to exercise in place while we shelter in place due to the COVID-19 pandemic. The series includes exercise demonstrations, fall prevention and response information, proper ways to get up from a fall, information patients with myositis can use to work with a local physical and occupational therapy team, and more.


Interesting Fact
The organization is a worldwide all-volunteer patient-led organization. All members of the Board of Directors and volunteer staff live with myositis.
Where To Donate
Contact
Myositis Support &
Understanding Association
9125 N. Old State Rd.
Lincoln, DE 19960
(888) 696-7273


Newsletter Sign-up