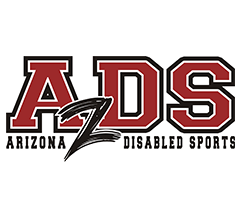 Mission
To empower individuals with disabilities through adaptive sports and recreation.
Services Provided
Arizona Disabled Sports (AzDS) provides weekly adaptive sports and recreation programs to people with physical, visual and intellectual impairments. Programs include air rifle, archery, aquatics, basketball, bowling, boccia, cycling, dragon boat, floor hockey, golf, hiking, kayaking, power soccer, soccer, track & field, wheelchair basketball, wheelchair & amputee tennis, and yoga.
Additionally, AzDS hosts numerous special events and social activities throughout the year, including the SkiAble Adaptive Alpine Experience, Pedal N Paddle Fest, West Coast Conference Bid Regional Wheelchair Basketball Tournament, and the Desert Challenge Games, a multi-day, multi-sport competition whole track and field events own the distinction of being a World Para Athletics Grand Prix.
How Many People Reached
Arizona Disabled Sports serves approximately 1,500 people with disabilities annually.
How Donations Are Used
Donations directly support the many resources needed to facilitate our adaptive sports and recreation programs, including adaptive equipment, staff and coaching costs, facility rental fees, uniforms and other supplies needed.
Project Spotlight
AzDS is always looking for new program opportunities to implement. It has the specific need to fund the resources needed to start a golf program for those with a physical or visual impairment, and with our recent success from adaptive rock climbing clinics, AzDS is seeking funds to continue that program as a weekly opportunity. Providing activities to keep people with disabilities active and connected is key to our mission, so it is also in need of support to establish a comprehensive fitness program that could be offered both in person and virtually.
Awards or Accreditations
AzDS received accreditation from the International Board of Credentialing and Continuing Education Standards (IBCCES) as being a Certified Autism Center.
Interesting Facts
AzDS has the unique ability to serve individuals with all types of disabilities (physical and intellectual/developmental). It has had a partnership with the City of Mesa Parks, Recreation and Community Facilities and Mesa Public Schools for over 30 years that is key in being able to facilitate the many opportunities that we offer. We are able to cater to those that want to participate for purely recreational purposes and also those that want to be a Paralympiam.
Get Involved
Contact
Rhonda Carlson
59 E. Broadway Road
Mesa, AZ 85210
(480) 835-6273
Email
Newsletter Sign-up