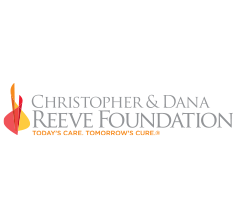 Mission
Christopher & Dana Reeve Foundation dedicated to curing spinal cord injury by advancing innovative research and improving the quality of life for individuals and families impacted by paralysis.
Services Provided
Today's Care
In 2002, the Reeve Foundation Paralysis Resource Center (PRC) opened its doors thanks to the leadership and vision of Dana Reeve. Through the PRC, the Reeve Foundation offer a free, comprehensive, national source of informational support for people living with paralysis and their caregivers. Its primary goals are to foster involvement in the community, promote health and improve quality of life.
The PRC consists of a variety of services, communities, and programs, including:
Information specialists are trained to help anyone – from newly-paralyzed individuals and their family members, to persons who have lived with disabilities for quite some time – by providing individualized support and information with the ability to respond in over 170 languages.
Peer & Family Support Program fosters peer-to-peer support, via trained and certified mentors. The ultimate goal is to help individuals find support and resources among the communities who best understand the day-to-day realities and long-term challenges individuals living with paralysis face.
The Quality of Life Grants Program has awarded over 3,151 grants, totaling more than $30 million in financial support for fellow nonprofits that mirror the Reeve Foundation's mission. The grants focus on programs or projects that foster community engagement and involvement, while promoting health and wellness for individuals living with paralysis.
The Military & Veterans Program (MVP) supports the unique needs of current service members and veterans, regardless of when they served or how their injury was obtained.
Advocacy/Policy programs are designed to not only help individuals advocate for themselves, but also to advance important issues for the greater community of individuals with paralysis.
Tomorrow's Cure
Since 1982, the Reeve Foundation has awarded over $138 million to labs around the globe to accelerate scientific breakthroughs across the field. To achieve this mission – cures for spinal cord injury – requires the collaboration of the most renowned minds in neuroscience.
To that end, the Reeve Foundation supports a vast range of research programs that bring together scientific leaders from different disciplines to speed the delivery of therapies and treatments for spinal cord injury.
The Foundation's research programs include
NeuroRecovery Network® (NRN), a cooperative network of rehabilitation centers charged with developing and – more importantly – providing therapies that promote functional recovery and improve the health and overall quality of life for people living with paralysis.
The North American Trials Network® (NACTN) is a coalition of clinical centers to advance promising therapies from the laboratory into clinical trials to demonstrate effectiveness and safety.
Through the International Research Consortium on Spinal Cord Injury, the Reeve Foundation is helping to launch the next generation of spinal cord scientists. Consortium members have made key discoveries that have led directly to potential spinal repair treatments.
The Big Idea is a campaign to fast track the next phase of epidural stimulation research and work with regulatory authorities to advance this groundbreaking therapy to the clinic.
Other key programs
Team Reeve® is the grassroots fundraising program of the Christopher & Dana Reeve Foundation. From running marathons to hosting local events (i.e. school events and 5ks), supporters transform their passions into opportunities to rally around the Reeve Foundation mission. Joining Team Reeve® means signing up to change lives.
Another fundraising arm of the Reeve Foundation is Team LeGrand which was founded in 2013 by former Rutgers football standout, Eric LeGrand, who sustained a spinal cord injury during a college football game. The mission of Team LeGrand is to help individuals living with spinal cord injury and their families by supporting quality of life initiatives and emerging therapies that will get us to the end zone – cures for SCI.
How Donations Are Used
Decades ago, life with paralysis offered little hope. Today, every dollar raised goes to uniting the brightest minds in the field, developing and delivering real world treatments moving the Foundation closer to cures for spinal cord injury.
Interesting Facts
Resource Map finds local resources and community-based organizations that support people living with paralysis. To view map.
Where To Donate
Contact
Christopher & Dana
Reeve Foundation
636 Morris Turnpike
Suite 3A
Short Hills, NJ 07078
1-800-225-0292
General email
Newsletter Sign-up