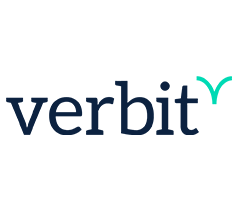 Industry
Assistive Technology
Mission
Verbit's vision is to provide a technology that fuels a world where all media shared in classrooms, workplaces and online platforms are inclusive. Verbit is dedicated to providing universities and businesses with the tools they need to make all video and media accessible to all individuals.
Products and Services Provided
Verbit is the leading interactive transcription and captioning solution. Verbit's in-house, AI-based technology is able to transform both live and recorded video and audio into 99% accurate captions and transcripts for the higher education, legal, media and enterprise industries. The combination of Verbit's in-house ASR (Automated Speech Recognition) technology with human transcribers provides a competitive advantage and quick turnaround times. This hybrid model provides high-quality, word-for-word, interactive and collaborative transcripts and captions in customizable templates. Verbit offers accuracy, scale and customization that professionals and students depend on for ADA, FCC and privacy compliance. Users are provided with domain expertise, top technology, 24/7 support and a tailor-made solution for individual customer needs. As a result, businesses, legal agencies and universities can increase operational capacity, provide accessibility and serve more clients and students.
AI-powered automatic speech recognition tools which generate captions and transcripts:
Digital Court Reporting & Depositions
Live Education Courses & Events
Captioning: Video and Audio
Transcription: Video and Audio
Web Conferencing & Events
Learn more through Verbit's blog, webinars and guides.
Interesting Facts
Verbit employs 15K professional transcribers from all over the world who fact check its technology to ensure it meets accuracy requirements in real-time.
Contact
Verbit
404 5th Ave
New York, NY 10018
(323) 843-2866
info@verbit.ai