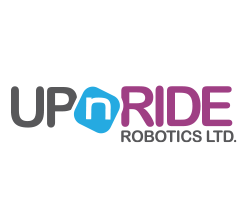 Industry
Wheelchair and Accessories
Mission
To become a global leader in robotic mobility device for the disabled.
Accessibility Community
Mobility support.
Products and Services Provided
UPnRIDE is a wheeled robotic device, providing upright and seated mobility both for wheelchair users, and for anyone who is unable to, or has difficulty standing or walking.
UPnRIDE offers numerous medical, psychological, and economic benefits, ensuring safety while standing, sitting, and shifting between positions, in practically any urban environment.
Interesting Facts
With the team that brought the ReWalk from idea to market, UPnRIDE Robotics develops, manufactures and markets novel upright mobility devices for disabled people, and aims to become a leader in the field of smart and robotic wheelchair. The UPnRIDE is the first and only smart robotic mobility device, which enables wheelchair users to become mobile while in a standing position. Used in practically any urban environment, even on lopes and uneven surfaces, both indoors and outdoors (4-5), UPnRIDE improves health, enhances self-esteem, replaces costly training devices, such as standing frames at home, and reduces the need for medical treatments and physical therapy
Contact
Dror Armon
Kochav Yokneam Bld.
Yokneam Illit 2069204, Israel
+972 4 6110061
Dror@upnride.com