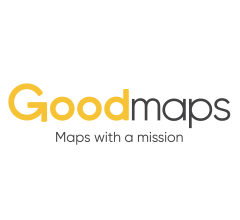 Industry
Assistive Technology
Mission
The GoodMaps mission is to improve the accessibility, safety, and inclusivity of indoor spaces by:
Creating and maintaining accurate and secure 2D and 3D digital maps,
Providing accurate positioning, and
Delighting users with a trusted wayfinding experience.
Products and Services Provided
GoodMaps is committed to providing navigation applications that are accessible to everyone. This is a challenge considering that maps are traditionally a visual resource. To further this commitment, we've been using Web Content Accessibility Guidelines 2.1, which provides standards for making digital content more accessible for all site visitors, including people who are blind or visually impaired.
GoodMaps' indoor mapping process utilizes LiDAR and 360 degree cameras to quickly capture data for an indoor venue. From these scans Goodmaps can create an accurate digital map of any building. During the scans, it captures a library of geo-referenced images that allows us to pinpoint a user's location when traveling through a building, camera-based positioning (CPS).
GoodMaps Studio serves as the data hub and user interface for all the maps that are generated. It provides a customer portal where venue owners can access and manage their digital maps. Within the portal, owners have the ability to maintain/edit point of interest (POI) data and view the maps in 2D floor plan, 3D model, and LiDAR point cloud.
GoodMaps Explore is our first of many applications that will use GoodMaps' indoor map database. GoodMaps Explore is a FREE fully featured accessible indoor and outdoor navigation application for iOS devices, Android to be released by the end of 2020. It includes complete maps for the United States and Canada covering millions of points of interest (POIs). GoodMaps Explore uses GPS and the phone's sensors to speak real-time information about outdoor surroundings and for indoor spaces utilizes our new camera based positioning technology that provides outstanding user location accuracy without the need for installation of hardware within the building.
Goodmaps believe in incorporating accessibility from the ground up and have assembled a team to include an accessible navigation subject matter expert, Mike May, who has been developing accessible navigation products for over two decades, and an accessibility analyst, Kim Casey, who ensures compliance with WCAG recommendations. Additionally, Goodmaps have partnered with Ablr to test the GoodMaps applications with assistive technologies, including screen reading and magnification software. Goodmaps design processes include checkpoints for ensuring the end product is accessible to all. It also considered usability issues, going beyond the minimum accessibility standards. In the interest of staying ahead of emerging technology, GoodMaps monitors its products regularly to maintain a level of accessibility for all, and are committed to fixing any issues that may arise. Goodmaps can provide an Accessibility Conformance Report (ACR)/Voluntary Product Accessibility Template (VPAT) upon request.
If you have a building that could use accessible indoor navigation, please reach out to evelyn.tichenor@goodmaps.com. Join GoodMaps in the mission of creating accessible indoor spaces for all people.
Interesting Facts
GoodMaps was born out of the American Printing House for the Blind, a 163 year old nonprofit focused on creating independence for people who are blind or visually impaired. In the beginning of GoodMaps journey, it was quickly realized that there are less than 300,000 buildings mapped indoors around the world. Goodmaps could not accomplish its mission of expanding accessible indoor navigation without creating the maps for the apps and so, GoodMaps the company, and GoodMaps the platform were born.