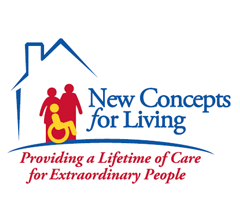 Mission
Established in 1981, New Concepts for Living (NCFL) is a community based not-for-profit organization dedicated to serving individuals with developmental disabilities and their families.
NCFL provides housing, day programs, behavioral services and more for the outstanding individuals that are entrusted to their care.
Currently operating community residences (group homes and supervised apartments) throughout Bergen and Passaic Counties, NJ and a Day Program Achievement Center, NCFL enables its clients to reach their full potential by offering programs, support and services designed to enhance their daily living and social skills, cognitive behavior, self-esteem, mental and physical health and overall quality of life.
At New Concepts for Living, they are committed to providing clients with round-the-clock care for life while promoting individual independence.
Today, NNCFL is proud to offer many services that ensure these individuals achieve their potential and live as independently as possible!
All of NCFL's programs and services are designed to enhance the lives of the nearly one hundred clients they serve. Everything they do is aimed at enhancing the resident's daily living and social skills as well as cultivating their intellectual development while providing a safe and fun environment where they can thrive!
Services Provided
Adult Achievement Center
For over 25 years, New Concepts for Living has been providing a distinguished day program for developmentally disabled adults. Unlike other programs in our area, NCFL participants benefit from well-rounded skills training plans, an unmatched activities calendar, on-site behavioral services and the availability of an on-site RN or LPN.
NCFL's Adult Achievement Center not only offers state-of-the-art care and recreation for our participants, it also provides much-needed respite for the caregivers of these extraordinary individuals. NCFL staff is trained to encourage and assist participants in order to enable them to reach their full potential, while ensuring they receive the dignity and respect they deserve.
NCFL'sr mission is to ensure we enhance the lives of everyone in our care and to not only keep them safe but to help them thrive!
Community Residences
NCFL's housing solutions offer a safe and nurturing environment for those 21 years old and over who cannot manage the chores of daily living alone. Its staff is required to complete ongoing training that ensures they are qualified to meet the individual needs of all our residents. Behavior Specialists and Nurses are on call 24/7, providing care around the clock, including behavioral, medical, and dietary/nutritional services.
Community Inclusion
At NCFL, they embrace the belief that all people, regardless of their abilities, disabilities, or health care needs, have the right to be respected and appreciated as valuable members of their communities and to participate in recreational activities in neighborhood settings. NCFL understands that they have a responsibility to its clients, their families and the community. All individuals in our care, both from its Community Residences or the Adult Achievement Center Day Program have the opportunity to enjoy a variety of trips and outings.
Behavioral Services
At New Concepts for Living, they believe it is its mission to ensure that every individual entrusted to them is well taken care of physically and emotionally. In addition to having Registered Nurses and LPNs on staff and available 24/7, NCFL also employs educated Behavior Specialists. These professionals are highly trained to deal with the different behaviors that accompany certain diagnoses.
NCFL is proud to have one of the highest ratios of Behaviorists to clients in the state and is well-prepared to mitigate any emotional stress, anxiety or unacceptable behavior demonstrated by our clients.
Nursing
Many of its residents have unique medical needs in addition to the every-day requirements that ensure they stay as healthy and active as possible. From blood pressure monitoring and administration of medication, including insulin to more critical care nursing needs and emergency services, NCFL's family of extraordinary individuals receive the specific medical supervision and attention they deserve. Each client's care is monitored closely and regularly by its Nursing team.
Transportation
New Concepts for Living has a variety of vehicles that provide transportation services to our residents. Our trained staff will drive residents wherever they need to be safely, and in a timely manner. Our fleet of handicapped accessible and well-maintained vehicles are also equipped with multiple surveillance cameras to ensure the continued safety of all those in our care - even when heading out somewhere. These vehicles are used to transport its residents to and from their group homes, our day program facility and also on outings such as shopping, field trips, medical appointments, families' residences, places of worship and more. This service is available to all the community and day program residents, at no additional charge within a certain radius ('catchment area'). Outside of that radius, accommodations can be made.
How Many People Reached
NCFL serves nearly 100 adults with developmental and intellectual disabilities and provides much needed support and respite to their families and caregivers.
How Donations Are Used
NCFL serves nearly 100 adults with developmental and intellectual disabilities and provides much needed support and respite to their families and caregivers.
Project Spotlight
NCFL is currently breaking ground on a new home that will be providing round the clock nursing care to servce medically fragile adults with developmental or intellectual disabilities.
Interesting Facts
NCFL is one of the highest paying agencies of its kind and that enables us to hire and retain top talent. We recognize the importance of continual training and value our loyal direct service professionals.
Where To Donate
Contact
Deena King
68A W Passaic Street
Rochelle PArk, NJ 07662
(201) 843 - 3427
info@ncfl.net
Newsletter Sign-up